Each month we have a different guest speaker or activity for the guild to do at our meetings!
Upcoming Monthly Programs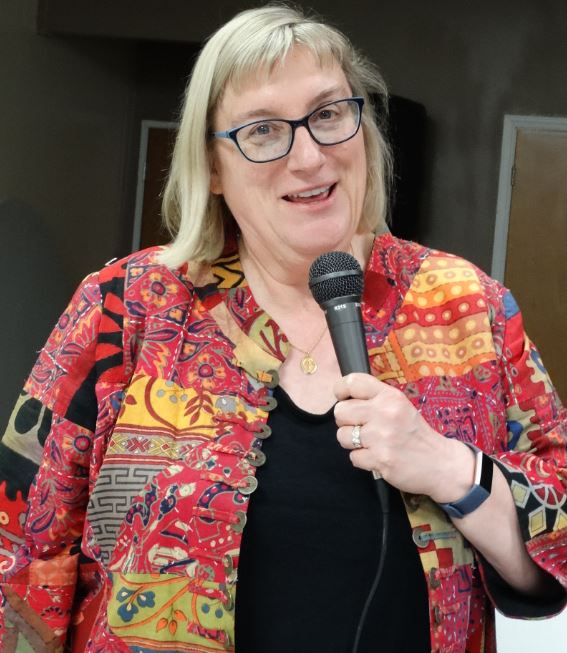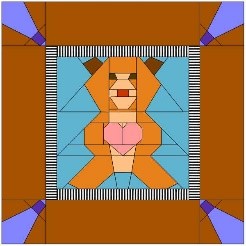 Our speaker for January was Susan Taylor who is a quilter from Fort Worth. She specializes in paper piecing. Susan has retired from the traditional work force and is beginning a second career lecturing in the quilt world. The presentation at our January 13 meeting was her first presentation to a large group. She was ably accompanied by her husband, Larry.
Susan also conducted a paper piecing class January 13 with several Guild members. Her project was a fun Bear Panel. All who attended had a great time!
Paper Piecing Specialist
January 13, 2020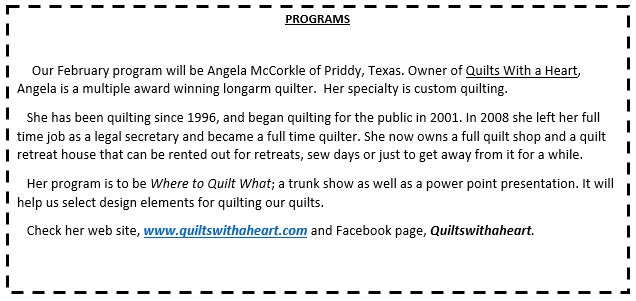 Monday, Mar 9th, 2020
Friends With Quilts
Members in the Quild will be presenting some of their fine quilt artistry.
Afterwards we will be discussing and planning the upcoming Quilt Show.
Time to get your quilt masterpieces ready to display in the
Stars Over Abilene 26th Annual Quilt Show
Angela McCorkle
Long Arm Quilting Specialist
February 10, 2020
April Meeting
Marlyn Salinger Kennedy will be presenting our April program. She is a former member of ourguild. Marlyn is presenting a trunk show on Monday night, April 13th, then doing a workshop on Sandi Irish's "I Spy Diamonds" on Tuesday, April 14th. It will require a template with a free pattern. Contact Wanda Brewer if you are interested in taking the class. Her contact info is on the newsletter.
You may see some of Sandi Irish's work at www.irishchain.com