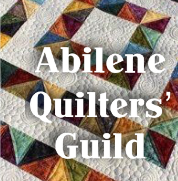 WE MAKE QUILTS TO WRAP AROUND THOSE WE LOVE!
Abilene Quilters' Guild is a non profit organization whose community of enthusiastic and talented quilters of all ages and skill levels meets monthly. Join us at our next monthly meeting!
Visit our About and Membership Pages to Learn More!
Meetings are on the second Monday of every month at 6:30 p.m. Meet, greet and eat at 6:00 p.m.
Meeting Place: Ridgemont Baptist Church Fellowship Hall, 4857 Buffalo Gap Rd., Abilene, TX 79606.
We enter around the back of the building. Park in the south lot and enter the door just around the
southeast corner in the back.
Support Our L

ocal

Quilt Shops!
Here are some links to our local vendors. Please support them because they help make all of this possible!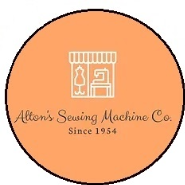 R Quilt Haven
115 N Leggett Dr
Abilene TX 79603
(325) 733-3011
Alton's Sewing Machine Co.
929 Butternut St
Abilene TX 79602
(325) 698-4770
Sew
736 S Leggett Dr
Abilene TX 79605
(325) 695-0026
Feathered Star
107 Oak St
Clyde TX 79510
(325) 893-4699
Sew Ready Quilt Studio
782 S Leggett Dr
Abilene TX 79605
(325) 668-8762
Come celebrate with us at our Monday, December 11th meeting. There will be lots of food, drink, and games (bring several 2.5" fabric strips for the games). We will also be exchanging handmade ornaments (not mass produced). In addition, we will be collecting unwrapped basic care items for local seniors who are alone for Christmas. The list of items needed can be found here. See the latest newsletter for more details on this and other upcoming events.
Supper potluck at 6:00 and meeting fun begins at 6:30.
We meet at Ridgemont Baptist Church
Pick up a Christmas Shop Hop Passport at R Quilt Haven beginning Saturday, November 25. Shop at the 4 stores listed on the Passport during the month of December and your completed Passport will be entered in a grand prize drawing to be held at the January 8 Abilene Quilters' Guild meeting! See the latest newsletter for more information.