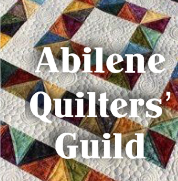 WE MAKE QUILTS TO WRAP AROUND THOSE WE LOVE!
Abilene Quilters' Guild is a non profit organization whose community of enthusiastic and talented quilters of all ages and skill levels meets monthly. Join us at our next monthly meeting!
Visit our About and Membership Pages to Learn More!
Come join us at our March 13th meeting. We will have a lovely Potluck dinner. Feel free to bring your favorite dish to share. Slip in some green touches to celebrate St. Patrick's Day. Supper begins at 6:00 and meeting fun begins at 6:30.
We meet at Ridgemont Baptist Church
4857 Buffalo Gap Road.
Make plans to attend the
29th Annual
Stars Over Abilene
Quilt Show
June 9-10, 2023
Click the Quilt Show tab for more details.
Enter your quilt by filling out the Entry Form.
Meetings are on the second Monday of every month at 6:30 p.m. Meet, greet and eat at 6:00 p.m.
Meeting Place: Ridgemont Baptist Church Fellowship Hall, 4857 Buffalo Gap Rd., Abilene, TX 79606
We enter around the back of the building. Park in the south lot and enter the door just around the
southeast corner in the back.
Our exciting Quilt Show will be here before we know it. Plans are being made and we need lots of help. All ideas and suggestions are welcome and so are you. The plans will be revealed at our March meeting and sign-up lists for each job will be available. You do NOT have to be a Guild member to help at the show. Join us and share the benefit of your quilty wisdom and experience!